Welcome to the Town of Avon,
New York ...


Here you will find accurate and easy-to-use information on
Town services and programs.
We invite you to explore all our community has to offer!

TOWN OF AVON
LEGAL NOTICE

Notice is hereby given that a Public Hearing will be held before the Planning Board of the Town of Avon, Livingston County, New York on the formation of a subdivision. Such hearing is being held pursuant to Article III, Section 113-6 of the Avon Code and Section 276 and 277 of the Town Law.
Whereas, the Estate of James Corcoran, as the owner of real property located at 2569 Lakeville Road, in the Town of Avon, New York, Tax Map No. 45.-1-80.3, has filed an application for approval of a 1-lot subdivision.
Please take notice that the Planning Board will hold the Public Hearing on June 6, 2017, in the board room of the Avon Town Hall, 23 Genesee Street, Avon, New York at 7:45 P.M.
All persons interested may attend in person or by agent to give testimony in favor of or in opposition to the granting of this subdivision.
Jennifer Sargeant, Clerk
Town of Avon Zoning Board of Appeals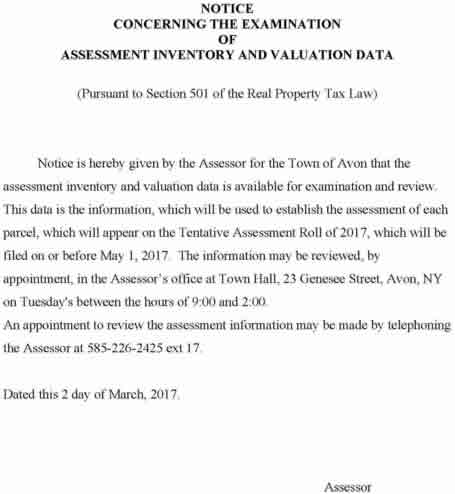 THE TOWN OF AVON
WATER DEPARTMENT

has a new billing system effective with the February 2017 bill cycle. This new billing system will allow TOWN water customers to both receive their bills via e-mail and also to pay water bills on line - via bank account or credit card. There is an extra fee for credit card payments charged by the credit card processing company. We are hoping that this new water billing system will allow more convenience for our water customers while still continuing to providing the same high level of personal service that we always have offered.
If need further information please email mblye@avon-ny.org or call Mary Blye at 585-226-2425 ext. 12.
LEGAL NOTICE
TOWN OF AVON
All regular meetings of the Avon Town Board throughout the year 2017 will be held at 6:00 P.M. on the following days (generally the second and fourth Thursday of each month) in the Avon Opera Block/Town Hall Building located at 23 Genesee Street, Avon, New York
1/12, 1/26, 2/9, 2/23, 3/9, 3/23, 4/13, 4/27, 5/11, 5/25, 6/8, 6/22, 7/13, 7/27, 8/10, 8/24, 9/7, 9/21, 10/12, 10/26, 11/9, 11/30, 12/14, 12/28
Sharon M. Knight CMC/RMC, Avon Town Clerk
LEGAL NOTICE
TOWN OF AVON
The Avon Town Board has resolved to open the South Avon Cemetery for cremations only. Sites are available for purchase on a first come first serve basis beginning the 15th of October.

Plot sizes are 4 x 4 the cost is $625.00 and they can be purchased in the Avon Supervisor's Secretary Office Monday through Thursday 11:00 AM - 12:30 PM And 1:30 PM - 4:00 PM, 23 Genesee Street, Avon, New York.
Sharon M. Knight CMC/RMC, Avon Town Clerk
THE TOWN OF AVON
is looking to fill multiple
PART-TIME CLERK POSITIONS
The ideal candidates should have experience working with computer databases, word processing and spreadsheet software; experience with cash control procedures; the ability to work independently and keep information confidential; and possess excellent record keeping, organization and interpersonal skills.
Preference will be given to Avon Town residents among equally qualified applicants.
Please return application and letter of interest no later than Friday, May 26, 2017 to:
David LeFeber
23 Genesee Street, Avon, NY 14414
Or via e-mail to: dlefeber@avon-ny.org
Click here to download the application
TOWN OF AVON
Highway Department
OPERATOR/LABORER
The Town of Avon Highway Department is seeking applicants for the position of a Highway/Water Employee.
This position will require an individual to operate heavy motor equipment and perform heavy manual work for road construction, maintenance and repair projects, equipment repair, maintenance and related work.
Applicants must possess mechanical abilities, ability to perform manual labor including heavy lifting in all weather conditions. A class A CDL or Water Operator's Grade D may take preference.
Must be available at any time for call-in procedure and arrive to work on very short notice for plowing, etc. Applicant must pass pre-employment physical, drug and alcohol screening and ongoing random testing.
Please return application and letter of interest no later than Friday, May 26, 2017 to:
David LeFeber
23 Genesee Street, Avon, NY 14414
Or via e-mail to: dlefeber@avon-ny.org
Click here to download the application