Welcome to the Town of Avon, NY ...

Here you will find accurate and easy-to-use information on Town services and programs.
We invite you to explore all our community has to offer!
HOUSEHOLD HAZARDOUS WASTE / PHARMACEUTICAL COLLECTION
Saturday, September 16, 2017
9 am to 2 pm
Mt. Morris, NY
APPOINTMENTS REQUIRED
RESOLUTION #122
Adopt Local Law 2-2017 Entitled Establishing A Temporary Land Use Moratorium Prohibiting Large Scale Solar Installations Within The Town of Avon
NOTICE OF FILING COMPLETED
ASSESSMENT ROLL WITH CLERK
(Pursuant to Section 516 of the Real Property Tax Law)
Notice is hereby given that the Assessment Roll for the
Town of Avon in the County of Livingston for the year 2017, has been finally completed by the undersigned Assessor, and a certified copy thereof will be filed in the office of The Town Clerk, on the 1st day of July 2017, where the same will remain open to public inspection. A copy of the roll may be viewed by accessing Livingston County website http://livingstoncounty.us/real_property_assessment.htm
Dated this 30th day of June, 2017.
Tami Snyder, Assessor
Town of Avon
THE TOWN OF AVON

Dear Town of Avon Water Customer:
As we previously communicated, the Town of Avon made upgrades to its water billing and accounting system in the last quarter of 2016. The next step to ensure accuracy of our system requires physical reading and a documented inventory of the water meter within your home.
In order to properly document the Town's meter inventory and each meter's functionality, the Town must do a physical inspection of all meters within the Town that have not been replaced within the last year.
The town has engaged the Livingston County Water & Sewer Authority (LCWSA) to complete this physical inspection of meters. An employee of LCWSA will be visiting each home to inspect the inside water meter. This will only take approximately 15 minutes. Please allow access to the LCWSA employee who will be carrying proper identification. If you have concerns about the physical inspection, please contact LCWSA directly at 346-3523.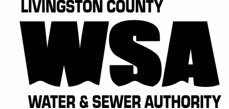 We appreciate your cooperation as we complete this process. If you have any questions please contact the water department at 226-2425, ext. 12.
Thank you.
Sincerely,
Avon Town Board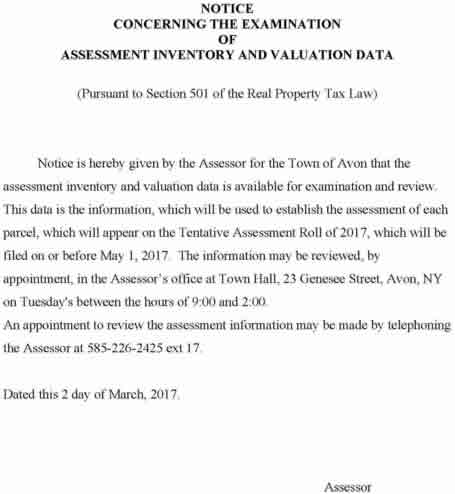 THE TOWN OF AVON
WATER DEPARTMENT

has a new billing system effective with the February 2017 bill cycle. This new billing system will allow TOWN water customers to both receive their bills via e-mail and also to pay water bills on line - via bank account or credit card. There is an extra fee for credit card payments charged by the credit card processing company. We are hoping that this new water billing system will allow more convenience for our water customers while still continuing to providing the same high level of personal service that we always have offered.
If need further information please email mblye@avon-ny.org or call Mary Blye at 585-226-2425 ext. 12.
LEGAL NOTICE
TOWN OF AVON
All regular meetings of the Avon Town Board throughout the year 2017 will be held at 6:00 P.M. on the following days (generally the second and fourth Thursday of each month) in the Avon Opera Block/Town Hall Building located at 23 Genesee Street, Avon, New York
1/12, 1/26, 2/9, 2/23, 3/9, 3/23, 4/13, 4/27, 5/11, 5/25, 6/8, 6/22, 7/13, 7/27, 8/10, 8/24, 9/7, 9/21, 10/12, 10/26, 11/9, 11/30, 12/14, 12/28
Sharon M. Knight CMC/RMC, Avon Town Clerk
LEGAL NOTICE
TOWN OF AVON
The Avon Town Board has resolved to open the South Avon Cemetery for cremations only. Sites are available for purchase on a first come first serve basis beginning the 15th of October.

Plot sizes are 4 x 4 the cost is $625.00 and they can be purchased in the Avon Supervisor's Secretary Office Monday through Thursday 11:00 AM - 12:30 PM And 1:30 PM - 4:00 PM, 23 Genesee Street, Avon, New York.
Sharon M. Knight CMC/RMC, Avon Town Clerk