NOTICE
Village of Avon
Leaf Pickup Schedule
Leaf pickup will begin Monday, October 13th. Please rake leaves to the very edge of the road with no sticks in the piles. They will be picked up during the fall season as weather and time permits. During this period please do not bring any limbs or brush to the curb until brush pickup for 2015. There will be no further brush pickup after Monday, October 6, 2014.
Leaves combined with brush will not be picked up.
Thank you for your assistance and cooperation.
John Barrett
Superintendent of Public Works
Funds for Rehabilitation of Income Properties Awarded to the Village of Avon
Section 504 Grievance Policy Adopted by Village
The Village of Avon recently received a grant under the federal Community Development Block Grant Program for housing rehabilitation purposes. Recipients of federal funds are required to adopt a grievance procedure for the prompt and equitable resolution of complaints from those who feel they have been discriminated against based on disability. The Village of Avon has adopted such a procedure pursuant to 24 CFR Parts 8.53 and 8.54, which state in part that, "No otherwise qualified individual with a disability in the United States... shall, solely by reason of her or his disability, be excluded from participation in, be denied the benefits of, or be subjected to discrimination under any program, service or activity receiving Federal financial assistance…". This may include, but is not limited to, housing and employment assisted with federal funds. This law, commonly referred to as Section 504, also insures that the Village will not discriminate in admission or access to jobs, federal programs or activities based on disability. The Mayor has been designated as the Grievance Coordinator. A copy of the procedure is available in Village Hall, 74 Genesee Street, Avon.
NOTE
The Village of Avon Police Department would like to remind drivers that New York State Law requires vehicles to yield to pedestrians that are in the crosswalk.
Gary Benedict, Jr.
Chief of Police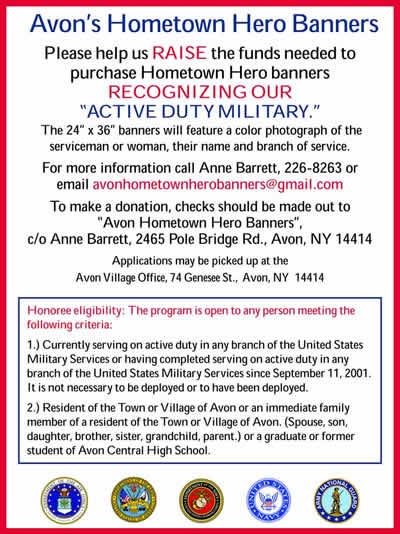 REMINDER
The Village of Avon Police Department asks that for your protection, PLEASE lock your cars and house at all times.
AVON POLICE
Starting immediately, due to concerns raised by the Village of Avon residents at a recent community meeting, the Avon Police Department will be increasing its presence at identified traffic areas located within the village. This increased presence may involve the issuing of traffic summons.
Chief Gary Benedict, Jr.
Village of Avon Police Department
585-226-3720

Welcome to the Village of Avon, New York's website ...
Our website will furnish you with up-to-the-minute, easy-to-find information on Village services and programs.
Please explore all we have to offer!
THE ERIE-ATTICA TRAIL BRIDGE
LINKING THE VILLAGE TO THE GREENWAY
Click here for pictures of the ribbon cutting
The book "50 Beautiful Deer-Resistant Plants" by Ruth Rogers Clausen is available at the Avon Library.