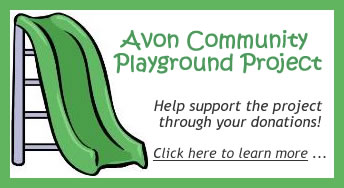 HYDRANT FLUSHING
HYDRANTS IN THE VILLAGE OF AVON WILL BE FLUSHED DURING THE NEXT 2 WEEKS (5/6-5/17).
DURING THIS TIME CUSTOMERS CAN EXPECT CLOUDY OR ROILY WATER AND FLUCTUATIONS IN WATER PRESSURE.
TO AVOID PROBEMS, RESIDENTS ARE URGED TO CHECK THE WATER BY RUNNING THE COLD WATER ONLY BEFORE DOING LAUNDRY OR USING THE DISHWASHER, CLOUDINESS WILL NOT AFFECT DRINKING QUALITY OF WATER.
WE APOLOGIZE FOR ANY INCONVENIENCE.
JOHN C. BARRETT
SUPT. OF PUBLIC WORKS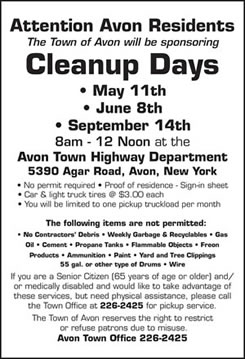 REMINDER
The Village of Avon Police Department asks that for your protection, PLEASE lock your cars and house at all times.
AVON POLICE
Starting immediately, due to concerns raised by the Village of Avon residents at a recent community meeting, the Avon Police Department will be increasing its presence at identified traffic areas located within the village. This increased presence may involve the issuing of traffic summons.
Chief James W. Noble
Village of Avon Police Department
585-226-3720
Welcome to the Village of Avon, New York's website ...
Our website will furnish you with up-to-the-minute, easy-to-find information on Village services and programs.
Please explore all we have to offer!
Downtown Revitalization:
Click here for Sign & Facade Improvement Program
2013 Policies & Guidelines
ERIE-ATTICA BRIDGE & TRAIL PROJECT - Click on your choice:
The book "50 Beautiful Deer-Resistant Plants" by Ruth Rogers Clausen is available at the Avon Library.