VILLAGE OF AVON RESIDENTS
Please take notice that storm cleanup help will be provided for village residents only by placing dumpsters at various locations throughout the village.
Please take damaged articles to one of the dumpsters provided by the village. If you are not sure where they are located, please contact the Village Office at 226-8118. If you are not able to transport items, please place the items at the curb for pickup by the DPW.
The following items are not permitted: weekly garbage & recyclables, tires, gas, oil, cement, propane tanks, flammable objects, Freon products, ammunition, paint, yard and tree clippings, 55 gallon or other types of drums, and wire.
NOTE
The Village of Avon Police Department would like to remind drivers that New York State Law requires vehicles to yield to pedestrians that are in the crosswalk.
Gary Benedict, Jr.
Chief of Police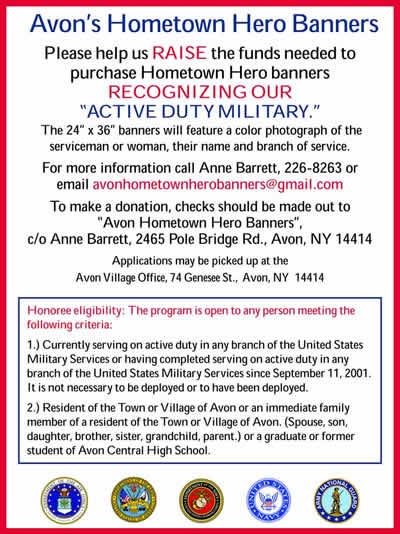 REMINDER
The Village of Avon Police Department asks that for your protection, PLEASE lock your cars and house at all times.
AVON POLICE
Starting immediately, due to concerns raised by the Village of Avon residents at a recent community meeting, the Avon Police Department will be increasing its presence at identified traffic areas located within the village. This increased presence may involve the issuing of traffic summons.
Chief Gary Benedict, Jr.
Village of Avon Police Department
585-226-3720
Welcome to the Village of Avon, New York's website ...
Our website will furnish you with up-to-the-minute, easy-to-find information on Village services and programs.
Please explore all we have to offer!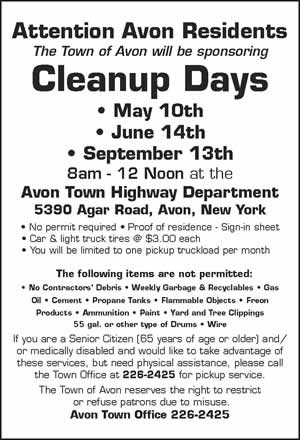 THE ERIE-ATTICA TRAIL BRIDGE
LINKING THE VILLAGE TO THE GREENWAY
Click here for pictures of the ribbon cutting
The book "50 Beautiful Deer-Resistant Plants" by Ruth Rogers Clausen is available at the Avon Library.